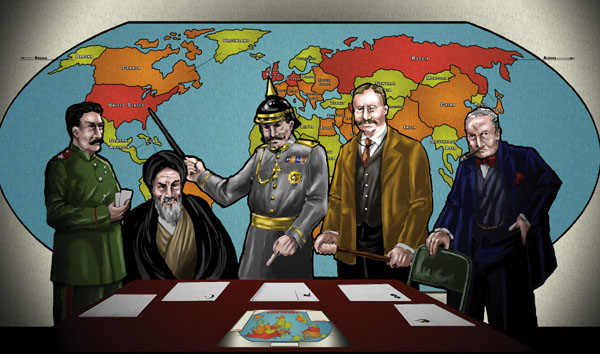 ---

---
The conflict of political ideas spawned the conflicts of the 20th Century. More than any other era in human history, nations defined themselves not merely by their military or economic might, but by the ideals that inspired their ambitious achievements.

Ideology: The War of Ideas is an exciting new strategy game by Z-Man Games. During the game, each player symbolizes one of the 20th Century's most powerful Ideologies:

Capitalism
Communism
Fascism
Imperialism
Islamic
Fundamentalism

Beginning with one global region completely under its sway, each Ideology attempts to influence and control the independent regions of the earth. The Ideology that acquires the highest level of global influence will dominate the world for generations to come!
---
Nominated for
Best Abstract Board
Game of 2003
---
IDEOLOGY Demos & Tournaments
Essen Spiel (Essen, Germany)
Ideology Tournament
Friday (October 22): 2 PM
---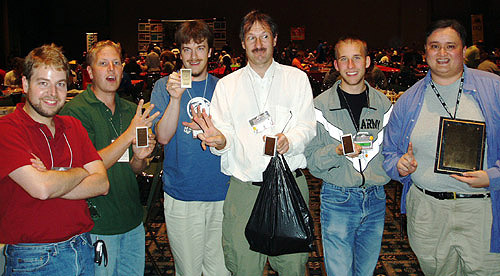 Ideology Designer Andrew Parks (left) stands with the Finalists of the GenCon 2004 Ideology Tournament. Michael Keller of NJ (right) was the champion at both the Origins and GenCon tournaments.
Thanks to Nicholas Szulczewski for the photo!
---

---
Want to hear what others are saying about Ideology?
Visit our entry at Board Game Geek!
---
---
Questions about the Ideology Game Rules?
Please email the Designer at webmaster@njkingdom.com.
---


---
© 2003 Z-Man Games, Inc. All rights reserved.
Game Design © 2003 Andrew J. Parks
Illustrations © 2003 C. James Parks